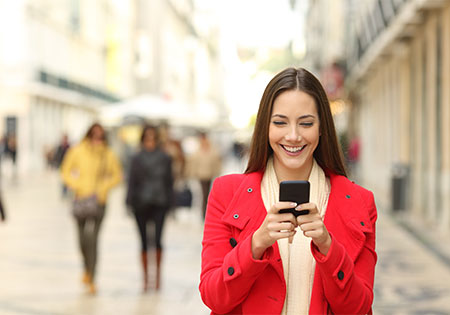 3 Proven Strategies for Getting More Customers on Facebook
There are proven, tested ways for any business to be successful on Facebook.
Do you ever wonder why your Facebook posts don't seem to be bringing in more customers? Facebook is the third largest country on earth, but you cannot seem to get 20 people to raise their hands and buy something!
(Before we go any further, if you don't know how many people from Facebook visit your website or interact with your business online, then you need to download a copy of our guide on how to properly set up Google Analytics on your website. It's free and super easy to follow. You can Download it Here.)
I have a friend who is an avid fly-fisherman. When he posts a photo of a trout he's caught, he'll have 60 likes within the hour. But many business owners can't get people to follow them on Facebook, let alone engage with their content.
Are you tempted to give up and claim that social media doesn't "work" for businesses like yours?
If this describes your business's experience with Facebook, you are not alone.
And it's not your fault.
The good news is, almost any social networking platform presents the opportunity for any organization to reach more people and turn that reach into revenue.
In a bit, I'll outline three strategies that you can use right away to make Facebook work better for you.
First though, consider why people are on Facebook.
Facebook is "a place to connect with friends". The concept is simple: Create a profile, post updates about yourself. Comment on the updates of others. Show pictures of you and your pals being awesome. Rinse. Repeat.
With that in mind…
Remember that people are not on Facebook to shop (we have amazon.com for that).
People are not on Facebook to read their email.
People are on facebook to do what they do when they "hang out" with their friends and family – share stories, gossip, and find things to be amused or outraged by.
On a deep psychological level, people are on Facebook to affirm themselves as part of a group and to get the positive social feedback that comes with approval.
They do not go to Facebook expressly to hear about your business. Ever. That said, there are certainly a number of ways to create effective Facebook ads. If you are looking for ways to make Facebook ads work for your business, go here.
If people could grill out and stand around drinking beer on Facebook, they would do that. Businesses need to treat their activity on Facebook as if they were guests invited to that party. The trick as a business is to produce those same results with the content that you post.
Many businesses and business owners report a mix of extreme frustration and profound bewilderment when it comes to making Facebook work for them as a marketing platform. In fact, even the biggest, savviest advertisers have trouble making their paid ads on Facebook work.
(In fact, GM famously pulled their (huge) ad budget from Facebook shortly after the social network went public saying that FB ads had "little impact on consumers' car purchases". To be fair, they quickly reconsidered this position – after all, pulling ads from the third largest country on earth is a little extreme.)
The fact is, most small to medium-sized businesses fail to get new customers from Facebook because of a few simple misunderstandings:
Misunderstanding #1. The best way to entice buyers is to tie product features to customer benefits.
SOLUTION: Facebook doesn't work that way. You need to help Facebook users solve problems or gain knowledge that matters to them.
Misunderstanding #2. Customer service and great products will keep people engaged.
SOLUTION: Facebook is primarily a social environment. Treat Facebook users like they are part of a community before you sell to them. Involve them in your brand and business before they become customers.
Misunderstanding #3. Constant posting is the only way to stay in front of Facebook users.
SOLUTION: You can engage the most people on Facebook by regularly posting interesting, relevant content (and yes, special offers). Frequency is less important than quality.
Three Proven Techniques for Getting More (and Better) Customers from Facebook.
Technique #1: Post content that helps Facebook users solve problems or gain knowledge that matters to them.
Yeti coolers does a terrific job of posting interesting, informative content about how people use their products and about the lifestyles of their customers. The image below is from their video about outdoorsman and chef Jesse Griffith. In less than 8 days, it accrued more than 7,000 likes and 2600 shares (as well as 1,100,000 views.)
Now we don't all have access to great cameras and big production budgets.
How do you engage potential customers with useful, problem solving content?
There are a number of ways that Facebook makes it easy with a feature called "Facebook Live". Here's how to use it:
Download the Facebook App to your phone. You can get it here for the iphone. Or you can get it here for Android phones.
Look for the blue Facebook "F" icon and click it.
Enter your user name and password information to link the app to your account.
Look for the live video button once you are in the app. Then tap 'go live'. You'll be recording live video and can use it to talk about common problems that your products solve, talk about how your users and customers use your services, or anything else that connects you to your audience.
(If you want a quick overview of Facebook live, then you can go here.)
Facebook live videos are posted to your page in real time and your followers can interact with you while you are filming. But best of all, even if "no one is watching", your videos are saved to your page.
Work to offer great ideas and helpful advice with your videos and you will see your audience become more and more engaged and interested.
Technique #2: Involve your audience in your brand and business before they become customers and highlight all of the great people who are already your customers in your posts.
Make "your" posts about your current customers whenever possible. And when you can't, make your posts as personal and social as possible.
Most businesses post "information" on Facebook (in the form of links to blog entries or new products). Or they post "thank yous" for a successful event (as in "Thanks to everyone who came out…")
Neither of these types of posts respect why users are on Facebook. Instead, you need to be creating posts that feature your current customers or posts that create a personal face for your business and invite social interaction.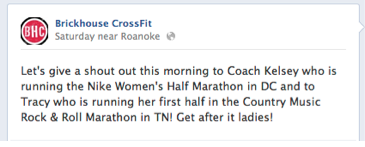 The business is a gym. Their brand focuses on a strong message of empowerment (especially for women) and has an attitude of "everyone is an athlete". What does this post do in a short, sweet space?
First, it shows two specific, real people doing something awesome. Second, it shows one of them doing an awesome thing for the first time. It also offers up a positive, upbeat air of encouragement – the post is structurally directed to two people, but is really aimed at the entire customer and would-be-customer base for the business.
Another alternative is to post pictures with simple captions and invite people to tag themselves or their friends. Take this post from a Culinary School in Houston – it's simple and not at all fancy.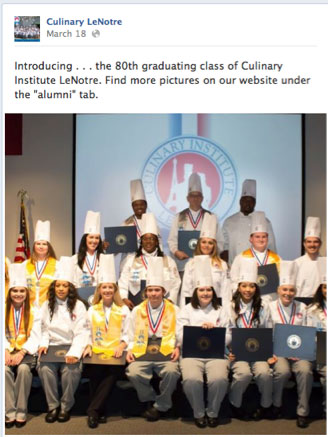 Posting an image like this and then actively asking your fan base to tag themselves or people they know creates a pull towards interaction and engagement.
Believe me, people are way way way more likely to engage actively with your posts if your posts are about them or about people they know.
Technique #3: Create a simple schedule and stick to it.
Many businesses feel overwhelmed by the idea that they have to post constantly to Facebook in order to keep people interested. Fortunately, this isn't true! You can post as little as once a week and still grow your audience and get people interacting and talking with you about your products and services.
The key is to post quality, relevant content with no filler.
To pull this off, you need a simple, but rigorous schedule of what and when to post on your Facebook page – and that schedule needs to include regular "calls-to-action" (which is marketing speak for "asking for the sale").
The key to asking for business on Facebook is to have it be a regular, but low key, part of your posting schedule. Call-to-Action (CTA) posts cannot be the bulk of your postings, but they need to be there regularly. And ideally, they need to be time-sensitive.
The frequency of these posts depends on the nature of your business and the investment that your audience needs to make in order to buy.
If you are a restaurant, then starting with one CTA post per week is a good idea. If you are a college, then once every other month works well. Other businesses will have other ideal frequencies.
They key is a regular rotation of post-types done on a schedule that will not fatigue you… or your audience! You could build a simple schedule out of the things we've talked about in this article. Here is an example that covers two weeks at a restaurant:
| | |
| --- | --- |
| MONDAY | Nothing (we're closed) |
| TUESDAY | Nothing |
| WEDNESDAY | Notice about some super fresh ingredients |
| THURSDAY | Nothing |
| FRIDAY | Off-menu wine special in limited quantity |
| SATURDAY | Nothing |
| SUNDAY | Nothing |
| MONDAY | Nothing (we're closed) |
| TUESDAY | Notice about limited availability of a dish |
| WEDNESDAY | Notice about booked solid weekend |
| THURSDAY | Nothing |
| FRIDAY | Photo taken by guest of table with chef tagged with names |
| SATURDAY | Nothing |
| SUNDAY | Nothing |
There you have five easy posts in 14 days.
This is a very basic schedule that doesn't take a whole lot of time (just a little thought) to execute. I've used this very rotation with great success for small, upscale restaurants that are looking to fill more seats during the slower weekdays. Ditto for medium sized businesses looking to build bigger audiences.
It's five posts every two weeks. The only thing that changes is the particular nature of the time-sensitive CTA. (We don't say like clockwork "we're booked this weekend!! Get the few remaining tables now!!" because that would be a little fishy.)
Some Final Thoughts
It is very possible to succeed at Facebook marketing. You just need to change your perspective to understand why your audience goes to Facebook in the first place.
Once you have adapted your overall strategy to creating posts that center on your audience's experience, you can begin "asking for the business" with regular calls-to-action.
As always, you manage what you measure — that's why it is always a good idea to have some kind of tracking and reporting tool for your website that allows you to see where your traffic is coming from and how successfully you are driving sales and engagement with new and existing customers. Google's Analytics service is absolutely free and fairly easy to set up. Download a copy of our free guide to help you get started.
GET UPDATES IN YOUR INBOX
Join Our Private Facebook Group for Exclusive Content & Access to Our Coaches!