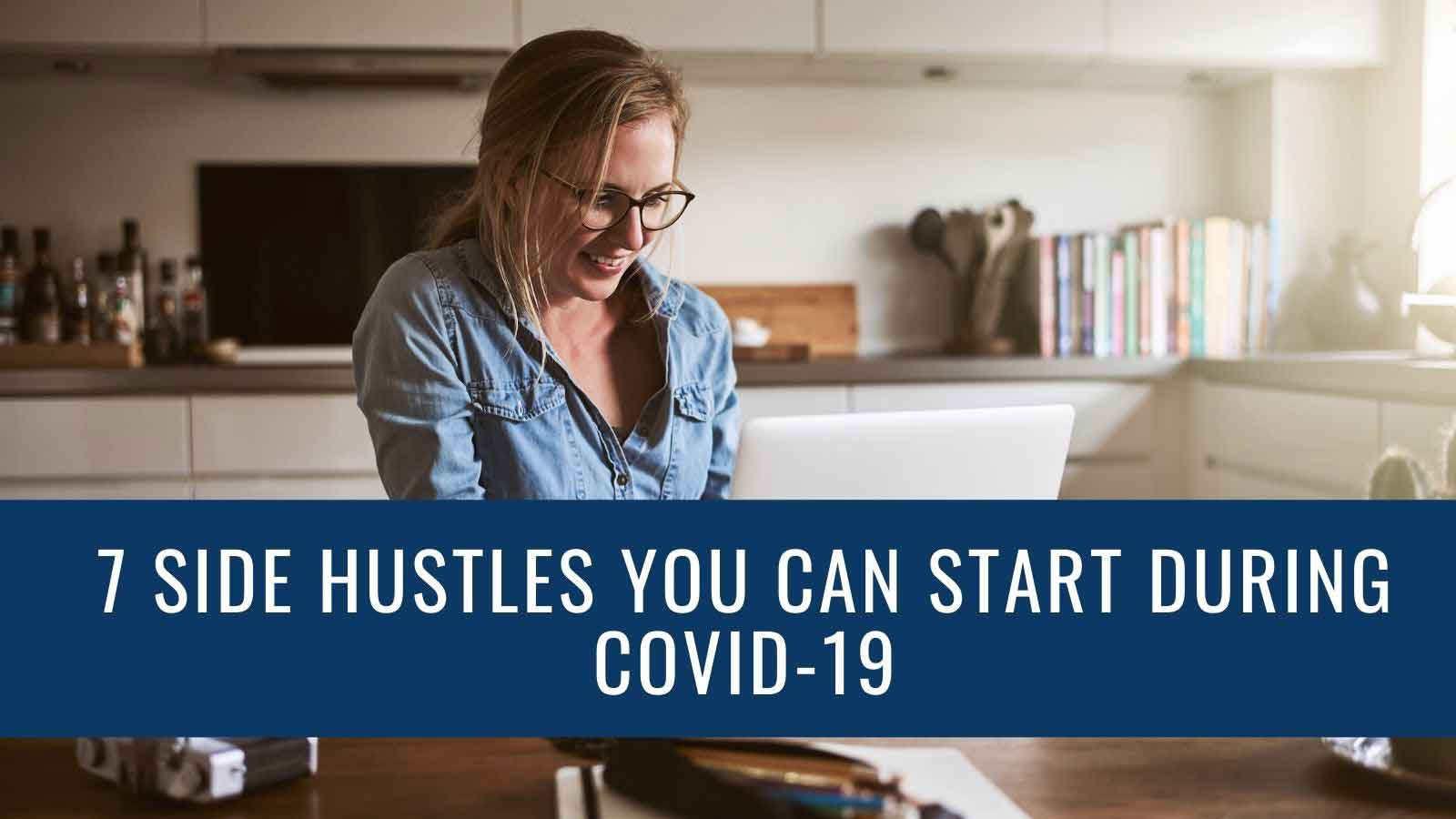 7 Side Hustles You Can Start During COVID-19
Starting a side hustle is one of the best decisions you can make. It gives you more freedom financially, personally, and professionally. There is nothing better than being your own boss and feeling in control of your future.
A great side hustle can give you:
Additional revenue
Confidence in yourself professionally
Feeling of control in your life and your job
Financial freedom
A path to owning your own business full-time
The trick is to find a side gig that fits your talents, your schedule, and the market.
Starting a Side Hustle in 2020
2020 has been a rough year all around, but I'd also argue that it has resulted in a lot of opportunities for aspiring entrepreneurs. This might be the best year in a long time to start your own business or side hustle. And, in fact, a lot of people are doing just that.
The U.S. had a record number of applications for new businesses in the second quarter of this year. While some small businesses have had to close their doors due to the pandemic, it has also provided opportunities for new ones to start.
Why is 2020 such a great time to start a business? Well, there are a lot of reasons. If you have been laid off or lost your job, now is a great time to re-evaluate your career goals. If you have extra time as you quarantine at home, now is the perfect moment to get a side gig. Both of these reasons and more are why 2020 might just be your best chance to start a new side hustle.
Generally, one of the biggest hurdles to starting a side hustle is coming up with a business idea. If you can just find the right idea, the rest seems easy. That's where I come in. I want to give you seven awesome side hustle ideas that you can start today. And that are perfect businesses to launch in 2020.
7 Best Side Hustles to Start Today
1. Virtual Events or Experiences
I think we are all pretty tired of being stuck at home. Now that meeting IRL is all but impossible, virtual events are becoming more popular. We've had the Zoom happy hours with family and friends. Each person trying to tell a story about being an a work video call without pants on. I think we are all looking for some new ways to connect digitally.
That's where you come in! Virtual events and online experiences are a great option for a side hustle. The beautiful of a side hustle like this is that you can create an event or experience that is unique to you and your skills. For example, we have a private client who provides virtual wine tasting classes.
At a time like this, people are looking for ways to connect with each other and to have great experiences without leaving the house. Finding ways to tap into those needs is the key to a successful side hustle.
To get started, think about what skills you have that might work well as a virtual event people could attend. Your goal should be to find something you can teach people that is fun to do virtually and that lets them be social. Make sure that whatever kind of virtual experience you create, you make it interactive and engaging. The way you communicate is key, taking communication skills training could help finding your tone. Don't just talk at people the whole time but encourage them to learn and participate!
2. Online Workouts or Fitness Coaching
The "Quarantine 15" is taking the country by storm. And not in a good way. As people are stuck in lockdown, they are skipping the gym, eating (and drinking) more, and generally being less active. In-person workouts are mostly off the table or at least more of a challenge. It's time to go virtual.
One company that has already benefitted from this is Peloton. Their stock is rising and orders are flooding in. But that doesn't mean there isn't still room in the market for someone like you. Especially, if you can create a product or service with a lower price tag.
The key to success with this side hustle is accountability. You need a way for people to work out virtually and maybe even connect with friends while they do so. At the same time, you need something helps keep folks motivated to get off the couch and start losing the extra pounds.
To get started, figure out what kinds of workouts you want to offer and how you want to offer them. The key here is understanding your audience and who you are creating plans for. There are a ton of different kinds of fitness options that can help folks stay in shape. Pick one that you know something about and think is beneficial. Then you can create and sell plans, virtual training sessions, or even live classes. Alternatively, you can make videos on YouTube and monetize your online traffic over time.
3. Home Cooking How To's
We are all spending more time at home. While there are a number of ways to get contact-less delivery and pickup from restaurants, people are still cooking more. Being at home all the time makes cooking just make more sense. That said, these new-found home cooks could use some tips!
There are a lot of ways you could capitalize on this need. One option is to create a blog and social media accounts where you post recipes for folks to read. The key is to find a specific niche or area of expertise and focus on giving great value. You need to post regularly to grow your following over time.
Another option is to create YouTube videos or offer online classes on cooking. You could use a subscription model for this business, sell classes as a one-off fee or offer live virtual events where you teach people basic cooking skills. Make sure to provide value and understand your market and what they will (and won't) pay for.
To get started, figure out what kinds of cooking and cook skills you have that you could teach to others. Do you know specific techniques that you could create videos on? Do you like creating recipes that you could share? There are a number of different ways to make this idea into a great side hustle. Start with your own knowledge and interests and then think about ways to make it easy to follow and informative for your readers/subscribers.
4. Home Decorating and DIY Blog
In addition to cooking more, people are also spending a lot more time on home improvement. Whether out of boredom or just extra time on their hands, this is a great time to start a blog with home improvement tips or DIY guides. If you focus your topics on specific types of projects someone with little experience who is stuck at home might do, you'll start growing an audience even quicker.
Just like home cooking tutorials, this side hustle has a lot of different options. Creating a blog as well as social media accounts is probably the most straightforward approach for this kind of business. However, you could also create and sell DIY kits for specific projects or provide tutorials or services virtually.
The home decorating and DIY industries are huge and have been that way even before this pandemic began. This is a side hustle that if you do it right you can keep creating and monetizing content for years to come.
If you are interested in starting this business, figure out what kinds of projects you want to talk about or focus on. Then decide if you are more interested in writing, in creating videos, or making a physical product like a kit. That will help you think about what your product is and who would be the most interested in buying it!
5. Sell Face Masks
This side hustle idea is very specific to the current pandemic. It might not be a viable business in the long term. However, if you get up and running quickly, you can create a successful business and make some money. Plus, this is a great low-cost product to sell that allows you to learn about starting an ecommerce business.
There are two different ways you could take advantage of this side hustle idea. One option is to dropship face masks in specific patterns or designs. Your goal would be to choose a specific audience for your face masks and find dropshipping suppliers who are reliable and ship quickly.
Another option is to start a business where you customize face masks. Either you can create a custom design yourself and sell it. Or you could setup a business where people can customize their own face masks. For example, maybe you are good at sewing. You could sell monogramed face masks on Etsy. Or you could figure out letting people put photos of themselves or their pets on face masks. The sky is the limit for this side hustle idea.
To get started, decide how and what kind of face masks you want to sell. If you are going to dropship, then you need to find products you like from a reliable supplier. On the other hand if you are designing products yourself, then figure out how you will get them produced when someone makes an order. Depending on what kind of business you are starting, there are a bunch of great platforms like Shopify or Etsy that can help make this kind of business easy to start.
6. Design T-shirts
Similar to selling custom face masks, you could create a business selling t-shirts or other products that you design. This is a great business to start right now if you create designs related to COVID-19. There are a ton of different options to create humor or more serious designs that will relate to just about everyone in the country.
The positive of this business is that it is very quick and easy to start with platforms like Zazzle. Plus, you already know there is a large market for your product! Best of all, it gives you a ton of opportunity for creativity to make the designs and products your own.
While this business might start out very focused on a particular topic, you can use the skills (and audience) you gain to create new designs in the future. Over time as you sell more and more products, you will get a better idea of your audience and the types of people who like to buy your designs. That in turn will help you come up with new ideas for designs in the future.
If you are ready to start this business, all you need to do is start thinking about design ideas. There are a bunch of different platforms that make designing products and selling them easy. You can checkout Zazzle for a super easy way to get started. Or find a supplier to print a certain number of your designs and then figure out selling and shipping them on your own. There are a number of options at varying price point depending on how much work and time you want to put in yourself.
7. Educational Products for Kids
The COVID-19 pandemic has led to kids spending a lot more time at home…and driving their parents crazy! As a result, many parents are looking for new ways to occupy their kids. Some parents may even have their kids home all day while dealing with virtual school.
Whether their children are home all the time or just more than normal, every parent is looking for new ways to keep them occupied. That's where you come in! Creating games and educational activities for kids of different ages can be a great side hustle business. You don't even need to create a toy in order to start this as a side gig. Instead come up with DIY activities and kits that you can make.
As the mother of a 15-month old, I am always looking for new things to keep my son occupied. But I don't have time to create and setup all of the many DIY games and projects you can find online. Recently I purchase a felt Christmas tree and ornaments on Etsy for him to play with. It is a simple design that anyone with some sewing and fabric skills could create but I just didn't have the time and was happy to pay someone else for it.
To start this side hustle, find different ideas of activities that kids can do and then do the setup work to make it easy for parents. Anything you can do to keep kids occupied without their parents having to do more work can be a moneymaker! To sell your products, you can use a platform like Etsy or Shopify.
Getting Started
Having a great idea is only the first step in starting a successful side hustle. Once you have an idea, you need learn more about the market for your business. To do that, find out if any other businesses currently offer your product or service (or even something similar). Then do some research to see what things they do well and which ones they don't. This is a great guide to learn more about what it will take for your business to be successful. Plus, you may even get some idea of what you can charge for your product.
Even if none of these ideas are quite right for you, they might help you find your own great idea! The key is to think about things you know a lot about or are good at and use those skills to develop a product or service that people will want to buy. After that, you just need some hard work and determination to be successful!
To your success!
GET UPDATES IN YOUR INBOX
Join Our Private Facebook Group for Exclusive Content & Access to Our Coaches!