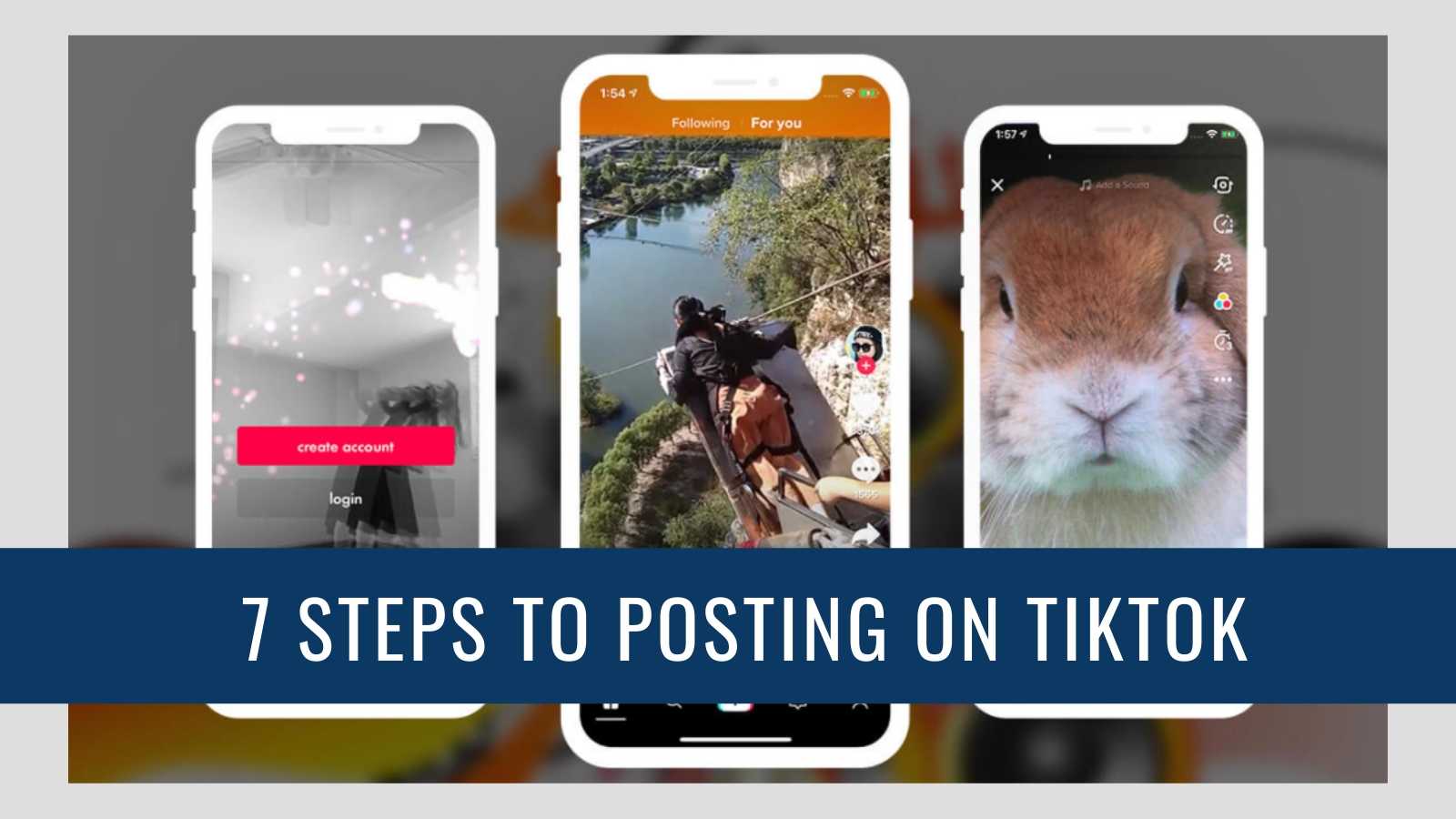 7 Steps to Posting on TikTok
One of the newest social media platforms that is generating tons of interest these days is TikTok. TikTok features short 15- to 60-second videos that often have trending music as a background. As a whole, the platform attracts a younger demographic, specifically teenagers and young adults. Depending on what your product is and who you sell to, it may or may not be the right place for you to try and connect with your audience.
If you have thought about creating a TikTok profile for your business but aren't sure how it works and how to use the platform to highlight your business, we can help!
This guide is for business owners and marketers who are new to the TikTok platform and want some easy tips on how to get started.
Real estate agents, landlords and other entrepreneurs who sell land and houses may find this guide especially helpful when thinking about marketing their listings on the platform. In just a few simple steps, you can create a quick video that highlights your listing and helps a new audience learn more about it.
The goal here is to make sure you can easily and quickly create content. You want a system and process that is doable and repeatable for all of your products or listings. If you worry too much about creating an amazing video that is as good as the top content creators, you may never get anything produced!
Getting Started
Download the TikTok app on your phone and create an account. Your profile name should be similar to your business name and the username of your other social media profiles. Make sure to include your website URL in the profile as well.
Then connect that to your Instagram account if you have one. Connecting your Instagram account allows you to publish content you create on TikTok to Instagram Stories and essentially create two pieces of social media content at once.
Posting a Video
Now we'll talk about the 7 quick and easy steps you can follow to post a video. There are many options to customize your videos in TikTok and this is just a brief overview to help you get started. As you start posting more over time, you can try out other features and see which resonate best with your audience.
Step One
Click the center square with + in the middle at the bottom of the screen. This will open up the video creation screen on your app.
Step Two
Decide how long you want your video to be. Choose between 15 and 60 seconds. The length will depend on the content you are filming and what your goals are. In general, if you work in real estate and are featuring a listing you want to create a longer video that gives you more time to highlight the different features of the property. Some products might lend themselves to shorter videos while others will work better with a longer video.
Step Three
You are able to pause the video as many times as you want while you film. This makes is super easy to show multiple product photos, different angles of a product or even different people talking about it. Then you can string the clips together as 60 seconds once finished.
Step Four
Once you hit the check mark, you will have the ability to edit the clips where you paused using the "Adjust Clips" tool. Then, you can do voiceover as well as text captions. The captions and voiceover can help further explain and add a personal touch to your video.
Step Five
Creating text captions is a great way to grab viewer attention when they first start watching the video. This is especially important as many users may not be listening to the video at full volume. Creating captions is simple. Just type what you want and then click done. After that, click on the text and click "Set Duration". This will take you to a screen that allows you to change the duration for each clip or for the whole video.
Step Six (Optional)
This step is optional if you want to also post your video to your Instagram Stories. Go to final step of posting by clicking the "Next" button. On the bottom of the screen, it will have "automatically share to" with your social media profile icons below. Click the third icon (Instagram story with a plus inside the circle) to share to Instagram.
Step Seven (Optional)
After posting on TikTok, go to the Instagram app and the video should be there for you to post on the story right away.
---
General Product Post Example
This is a very simple example of the type of post you could create for your business to highlight a specific product. If you sell services instead of physical products, you may need to rely on video of yourself talking or photos of your services in action rather than actual photos of your product.
What to Post
Script Idea
"(Your name) here from (company), just wanted to talk about our (product)…it is …(explanation). This (product) is just $x – visit our website to learn more."
Text Overlay
"(product) for $X."
Caption
Don't miss out on this X! Check it out on our website. #(product) #shopsmall #forsaleFeaturing houses or vacant land on TikTok can be a great way to generate interest especially for properties that might appeal to the young adult demographic.
---
Real Estate Post Example
This is a quick and easy way to create a listing video for each of your properties.
What to Post
Video your computer screen with the new listing (house for sale, rental property, vacant lot) up and click through photos as you talk.
Script Idea
"(Your name) here from (company), just wanted to show a new property listed…it is X sq.ft. in (area). It is spacious with a fenced in yard…etc. This (listing) is just $X/month – visit our website to learn more."
Text Overlay
"X sq.ft. in (city) | $X/month"
Caption
Don't miss out on this X for sale in X! Check it out on our website. #newlisting #realestate #forrent #forsale #house #home #(state) #(city)
---
PDF Guides
Click the links below to download the PDF guide for your business!
GET UPDATES IN YOUR INBOX
Join Our Private Facebook Group for Exclusive Content & Access to Our Coaches!