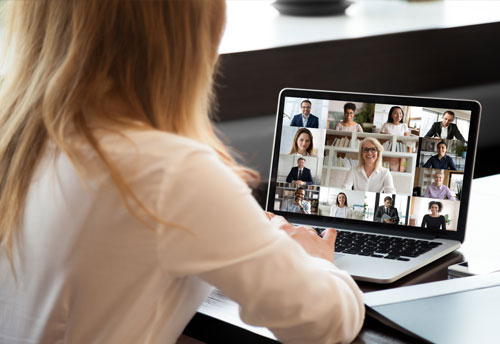 Beginner's Guide to Holding Digital Meetings
We have been a "virtual" workforce since 2013. Having the freedom to work from home (or the beach!) gives our team members valuable flexibility in an ever-changing market.
That said, we have "face to face" meetings all the time. Not being in the same physical space does not prevent us from working together and collaborating at every level.
Here are some of the tools we use (and prefer) for conducting virtual business within the company and with our clients.
1.) Slack – Good for teams (at work or your family/social group)
Get it here: https://slack.com/
Membership: Free and Paid (paid users get advanced features)
App: Available for desktop and mobile. Both work great.
How to page: https://slack.com/resources/slack-101
Slack is a collaborative workspace application that supports video chat (paid version only), voice chat, and text chat. Account holders and admins can invite working groups to join different channels focused on particular topics. Additionally, team members can hold voice or video meetings within channels or one-on-one.
We like Slack for it's ability to share and tag files as well as its integrations with other services like Google Drive, Dropbox, Trello, and more.
Allows intuitive screensharing too.
2.) Google Hangouts Meet – Good for teams and for one-on-one conversations
Get it here: https://gsuite.google.com/products/meet/
Membership: Free and Paid (currently, all G-suite customers can use advanced Meets features thru July 2020)
App: Browser based. Also an app for mobile.
How to page: https://support.google.com/hangouts/answer/3115553?co=GENIE.Platform%3DDesktop&hl=en
Google Hangouts Meet is Google's video conferencing tool. It is easy to use, but all of the folks in a call need to have an account that is either Google based or you can just send them a link for them to join a call. Easy peasy.
Video quality is high and it integrates with Google Drive for file transfer.
3.) Skype – Good for one-on-one interactions and for teams with largely chat/voice/video based interactions.
Get it here: https://www.skype.com/en/
Membership: Free to download and use. Can be used for "calling plans" to phone lines but we don't know anyone who actually does this.
App: Available for desktop and mobile. Both are great apps and very intuitive.
How to page: https://support.skype.com/en/skype/all/start/ (note – the left hand menu is the place to start. the default articles are… weird.)
Skype is a great tool because so many people have it. It natively allows for file sharing, screen sharing, and recording. We use it with several clients, but it is not our goto for internal work because the file management and searching is not easy to use.
Requires that your register your email as a "microsoft account" at set up.
Perfect for one-on-one conversations
4.) Zoom/GotoMeeting – Our team doesn't use either of these services any longer. Call quality is spotty and both require a software installation that is continuously (and irritatingly) updated.
GET UPDATES IN YOUR INBOX
Join Our Private Facebook Group for Exclusive Content & Access to Our Coaches!