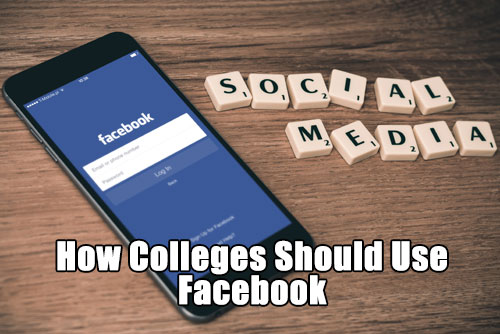 How Colleges Should Use Facebook
This is part of our Higher-Education Marketing guide to Leverage Social Media and Increase Higher Education Prospects. You can also check out How To Use Twitter and How to use Instagram or Pinterest as a college or university.
Facebook is one of the largest and oldest social platforms. Most people have a profile and understand its purpose and how to post. However, using Facebook as an individual is inherently different than using it as a college.  To optimize Facebook as part of a larger social media plan, it's also important to learn how to restructure content for other social platforms and how to use Facebook to leverage your followers into prospects.

Why Using Facebook Correctly Matters
Facebook has been around for a little over ten years now and continues to be one of the largest social networks. They now have over a billion monthly active users. More importantly for colleges and universities, 87% of online adults between the ages of 18 and 29 have a Facebook profile. On top of that, 73% of everyone between the ages of 12 and 17 has a profile. With that many potential students on Facebook, you can't afford to not have a profile. Or to use the platform incorrectly.
With the growing number of people and businesses using Facebook and the increase amount of content that they post, getting your content in front of fans has become more difficult. The Facebook newsfeed has a complex algorithm that determines which content users see first and at all. Understanding that algorithm and the kinds of content that it favors can help you decide what to post.
How the Facebook Algorithm Works
A couple of years after the creation of Facebook, they added the newsfeed. Over time the algorithm that orders posts in each user's newsfeed has naturally become increasingly complex. The newsfeed is designed to show users posts that they are most likely to engage in in order to keep them coming back. According to Facebook, "the average user has access to about 1,500 posts per day but only looks at 300." That's a lot of competition. And being in those top 300 spots is huge.
There are thousands of different things that Facebook uses to determine the order of posts, but the main goal is to find what users want to see the most. So your goal as a school should be to generate content that users want to see at the top of their newsfeed. Generally, Facebook prioritizes posts written by friends over those of business pages. Not necessarily because Facebook hates businesses, but because people tend to interact more with their friends. It's important to realize that even if you have a lot of followers, you need to work to get your content in front of them.
How the Facebook Algorithm May Change
Are you already feeling slightly depressed about the possibility of your content never making it to your followers? Facebook has created few ways for users to decide what content they want to see. First, there is the "Unfollow" option. It allows a user to stay friends with someone or to continue to like their page while no longer having their posts appear in the newsfeed. Even if someone unfollows you they can later go back and follow your posts again.
Second, this summer Facebook launched the "See First" tool in the hopes of allowing users to have more control over their newsfeed. Time has a great article on the new tool and the evolution of the newsfeed. This new "See First" tool will allow users to customize their newsfeed by determining which friends or pages they want to see content from first. The jury is out on whether people will actually use it and whether it will lead to an increase the "Reach" business pages get for their content.
What Types of Content You Should Post
Facebook allows you to post the widest variety of types of content. Unlike Instagram, Twitter and Pinterest, there are few restrictions on how you can structure content. This gives you a ton of options for posting. Images and videos generate some of the most engagement, but only when they are high quality. Images include everything from photos of interesting events on campus (you may have two to three events a year that will really engage fans) to videos or images of student work. University of Georgia does a great job using quality photos with article posts and showcasing student successes.
Facebook is a great medium to post articles or stories about your students. It is important to remember with everything you post from photos to articles that you need to think about what a user might want to see. As we've seen from the Facebook newsfeed, it is difficult to get your content in front of users. You need to consistently create content that people want to see. Photos of a couple of students giving a random presentation won't generate engagement. Same goes for an article on a faculty member who is doing a super specific research project on a little known fungus. Look for content that a 16 to 20 year old would pick over (or maybe right after) photos from their high school friends' latest ski trip. Then you're in business.
How to Structure Your Content
You should post at least weekly to Facebook but not more than twice a day and ideally around 11am or 12pm. Businesses that post more than twice a day generally lose followers and engagement. Focus on quality over quantity. While the optimal number of posts per week may depend especially if you have a limited amount of content, we recommend posting between twice a week and once a day. The main goal is to be consistent and create quality content each time.
Facebook posts do not have a restriction on word count like Twitter. We recommend writing longer captions to go with articles and images of at least a couple sentences that fully describe the content. Hashtags are also an important part of Facebook. While they are more used on other social networks, they can still be valuable on Facebook to help new users find your page. The ideally number of hashtags for a Facebook post is two. It is important to make sure that they are relevant and specific to your post.
Ways to Restructure Content for Other Platforms
Every Facebook post of an article, question, announcement or high quality photo can generally be shared to Twitter. For these posts, you can create three to four tweets with different shortened captions. Even though you may post the same thing multiple times, the sheer volume of content on Twitter makes it hard for followers to see everything you post. By posting something multiple times, you make it more likely that they will see it. Twitter is not a good platform for an album of photos. An album is really only for Facebook. Pick the best photo for Twitter and drive engagement back to your Facebook page by giving the link to your page in a tweet with the photo. Twitter posts should have two hashtags.
Any high quality photos can also be shared to Instagram and generally you can keep the caption the same as Instagram does not have a restriction on characters. Posts of articles can be shared on Pinterest with the same caption as long as there is an associated photo. Quality photos of something specific that you could link back to can also be shared. Pinterest is not the place for an album of photos. Boards are a collection of ideas so a photo of student art work that links to the school's art department page or ideally a gallery page works but five photos from a wine and cheese event are not something to pin.
Leveraging Facebook Page Likes
In the lower right hand corner of a Facebook cover photo, there are a few buttons with different calls to action. As a default those buttons include "Like," "Follow," and "Message," but you can also create another call to action that drives prospects directly to your website. There are a number of options for your Call to Action such as Sign Up, Watch a Video, Shop Now and Contact Us. When you are logged in you can click "Create Call to Action" to make one. For colleges, I generally think Contact Us is most applicable. If you have the time, you can also work to create a cover photo that draws attention to the button as well.
The great part is that you can decide what link you want that Call to Action button to take users to. While you list your site's homepage in "About," this option let's you drive prospects to a specific lander. If you don't have a quality lander you can at the very least link it to your actual contact page. Ideally, however, this link should go to a landing or "explainer" page that gives students some information about your school and a simple email sign up form. Other than creating a clear call to action for prospects, you should regularly post original articles that are from a blog on your site. Those links will also drive prospects to your site and give them reasons to sign up to get more information.
Important Takeaways for Using Facebook
Once you realize how difficult it is for your Facebook posts to actually be seen by people who like your page, creating quality content becomes even more important. The best way to get your content in front of more people and to generate more prospects is to really make sure you are posting regularly and that the content is excellent and focused to bring new students in. Photos and articles should all be both high quality and interesting. While an album of fifty photos from graduation may get some likes from current students, posting a selective one or two photos will get more overall engagement from current and future students. Work to create quality content that truly showcases your school rather than just posting anything you come across that might be relevant.
While in many ways managing a personal profile is very different from managing a business page, the same types of things get the most engagement. A quality photo of you with a monkey on your head will get more likes than the entire album of shots from your trip to India (especially those nine photos you took of a single flower). With a business page, you have even less time to keep people engaged simply because of the newsfeed algorithm. Find and create those monkey photos for your school and just post them.
GET UPDATES IN YOUR INBOX
Join Our Private Facebook Group for Exclusive Content & Access to Our Coaches!