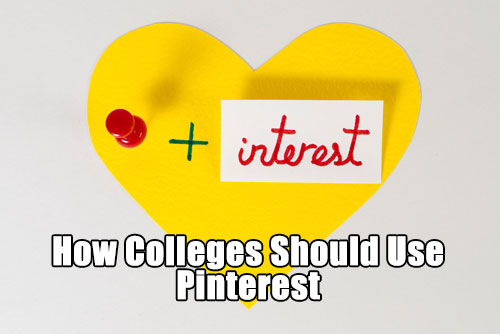 How Colleges Should Use Pinterest
This article is part of our guide to Leverage Social Media and Increase Higher Education Prospects.. You can learn more about how to use Facebook, Twitter and Instagram in the earlier installations of this guide.
Pinterest is a popular but often underutilized or improperly used platform. Founded in 2010, Pinterest has far more female users than male users and often is seen as a great platform for retail brands. While the format works especially well for retail brands, Pinterest gives all types of companies unique ability to get content in front of new users both on the platform itself and more importantly on Google searches. In order to use Pinterest successfully, you need to understand how the platform organizes content. Then you can learn how to choose and structure content as well as how to restructure content from other platforms for Pinterest. Finally, it's important to make sure that your entire Pinterest profile is set up to leverage followers and people who find your content organically in order to gain prospects.
Why Using Pinterest Correctly Matters
An overwhelming 71% of Pinterest's users are female. In fact, 42% of all online women have a Pinterest account while just 13% of men do. However, the number of male users is growing and the once almost exclusively dominated female platform may become more evenly split between genders as companies and brands of all types start utilizing it. Pinterest is most popular with a younger users and 34% of online adults between 18 and 29 had a profile in 2014.** For colleges, understanding how users interact with content on Pinterest is extremely important to gaining new prospects.
[bctt tweet="Pinterest is an important social network but it is also the one that is most often used incorrectly by colleges." via="no"]
Many people see the platform as focused on retail shopping or planning for things like decorating, weddings and cooking. While these types of content do well on Pinterest, you can get great traction as a school of any size by picking the right types of content to post and organizing it correctly. Similar to Instagram, Pinterest is a highly visual platform but, unlike Instagram, it is easier to post to in some ways and gives schools a number of options to funnel traffic back to their website. In some ways, Pinterest is the most important social network to use but at the same time it is the one that I most consistently see incorrectly used by schools and companies of all sizes. Learning how to do it right can make a huge difference.
How the Pinterest Smart Feed Works
Pinterest originally organized content based on recency like Twitter or Instagram. However, it has followed the lead of Facebook and introduced an algorithm to help users see more relevant pins in their feed. You now see pins from three main sources: pins posted by people you follow, pins picked for you based on what you repin or search for, and pins from the interests you follow. The feed then uses an algorithm to determine which of the pins from these various sources are most relevant to the user.
Pinterest determines the quality of a pin based on the pin itself including the image and its description as well as the source of the pin or the link associated with it. Additionally, the new Smart Feed works to show pins from multiple sources instead of just a few people that you follow. Posting regularly to Pinterest also makes it more likely that your pins will appear in a user's feed. Pinterest rates profiles based on regular activity, quality of pins and quality of sources. You need to do all of those things well in order for new users and current followers to see your content.
How Pinterest Interfaces with Google
Aside from finding new prospects on the platform itself, Pinterest boards and pins (if done correctly) are extremely SEO friendly. Many Google searches rank Pinterest boards in the top of their search results. Due to the fact that Pinterest is very focused on SEO and decides quality based on the pins, their descriptions and the quality of the source, you can sometimes rank for searches with a Pinterest board more easily than a website page. While this doesn't mean that every board you create will appear in Google searches, it does mean that Pinterest allows you to get content in front of new prospects on multiple search engines.
Pinterest itself has a search component that works similar to a Google search using keywords and the quality scores of pins and pinners in order to arrange search content. The bonus, however, is that if you are optimizing your Pinterest content and profile it will also perform well on Google. Plus Pinterest, like all social media sites, is seen as a reputable site by Google which means two things. First, Google will show Pinterest boards as top ranking results in relevant searches. Second, having a quality Pinterest profile will improve the rankings of your website. For those two reasons alone, you can't afford not to use Pinterest or to use it incorrectly.
What Types of Content You Should Post
Pinterest allows you to post almost any type of content as long as you format it correctly. As a highly visual platform, every post needs a quality image to go with it. This means that taking the time to make sure that the images associated with your post are engaging and optimized to perform well on Pinterest is key. While you can post individual photos, you can also post articles and videos. The biggest thing that leads people to use Pinterest incorrectly is not understanding the purpose of the platform. Pinterest is not Facebook and each board is not just a photo album.
Instead Pinterest is a collection of ideas or inspiration that you arrange into themed groups or "boards." The name (and the photo above) say it all: you are putting a pin in an idea or interest to save it. This is especially important when it comes to pinning individual photos that aren't associated with an article or video. The photos shouldn't just be ten shots of graduation. They need to have a clear purpose or idea. For a cosmetology school, you could post pictures of hair and makeup inspiration. For culinary school, photos of food with a recipe in the description. For a traditional college, try photos of art student's work or close up shots of cool engineering projects. You could also create a board of favorite dorm room setups. The goal is pin content that even people who don't go to school can connect with and use.
How to Structure Your Content
As we discussed above in talking about the Pinterest Smart Feed, posting regularly is important. That being said you don't necessarily need to post to Pinterest more than once or twice a week. The optimal time to post to Pinterest is Saturday morning. Alternatively, if you don't have somebody working Saturdays or don't use a service that posts to social media for you (we love Buffer – they are one of the only services that post to Pinterest), you can post everything from the week either on Friday or on the next Monday.
Each pin needs a photo, a description and often a source link. Photos are extremely important because they grab a user's attention. On Pinterest the best photo size is a ratio of 2:3. Long, narrow photos tend to perform best because they take up more space on the feed. Pinterest descriptions should use keywords but be written naturally. You don't want to engage in keyword stuffing but the description should clearly describe the post with relevant search terms. Experts disagree about the use of hashtags but at most you should include one or two. Any videos or articles you pin from a site will automatically have a source link. You can also add in source links for photos you upload from your computer. These are great to drive traffic to your site or blog but make sure that they link to a relevant page such as the art department page for a student art photo.
Ways to Restructure Content from Other Platforms
Almost all of the content that you post to other platforms can be restructured for Pinterest. Both original and curated blog articles are great for Pinterest and generally easy to pin. Once you enter the link, Pinterest will grab all of the images on the page and give you options of which to pin with the link. That being said sometimes there isn't a good image on the page or the image options aren't great to use on Pinterest. Feel free to create your own images to go with articles as needed (as long as they relate to the article). Videos work in a similar way and you can pick the screen shot you want to show.
When you pin images you need to make sure that they have a specific purpose and represent an idea. Any Facebook albums you create of say move in day are not good to restructure to Pinterest with the exception of maybe an individual photo or two. Since you have to upload photos manually, you can take the time to alter them for the optimal 2:3 ratio. At the same time, not every social media department has that kind of time. It's more important to pin your images with well-written descriptions and relevant source links. Taking the time to structure each pin correctly will dramatically increase your chances of appearing in the Pinterest Feed and on both Google and Pinterest searches.
Leveraging Pinterest Followers
Pinterest used to be set up so that your followers saw everything you posted which meant that having a lot of followers was really the best way to get content in front of users. Now with the Smart Feed and Pinterest's ability to choose relevant pins for users, you have a wider audience in many ways. Retail brands do well on Pinterest because they can simply pin their products with links to the product page and increase sales. It's not quite that easy for colleges. On Pinterest, having a profile and boards with clear descriptions that use keywords as well as well-crafted pins is the best way for users to find your school on Pinterest and sometimes on Google.
Make sure you take the time to create board titles and descriptions that are relevant to what you are pinning. You don't want to title a board "Makeup We Love" but instead try "Makeup Inspiration" or "DIY Makeup Ideas." Boards should target keywords that people regularly search for in the title and the description. You can also link your profile to your homepage but the best way to increase traffic is to correctly use source links when you pin content that doesn't naturally include a link. Every part of your Pinterest profile should focus on search optimization and linking back to relevant parts of your website or blog.
Important Takeaways for Using Pinterest
Pinterest is one of the most powerful social media outlets. It gives you the chance to show your content to a wide audience regardless of whether they follow you. More importantly, Pinterest can have a huge impact on SEO by boosting your website's rankings and giving you the chance for boards to show up in Google searches. Even with all of these opportunities, people consistently use the platform incorrectly and don't benefit from what it has to offer.
You have a ton of freedom in the types of content you can pin, but how you structure that content, especially if you want to do it well, is more restricted. Take the time to develop a strategy for how you want to create pins from the image to the description to the source link. And spend time optimizing your profile and boards. Understanding how you what searches you want your content to appear in and where you want to send potential prospects after they find your content is essential to maintaining a quality Pinterest profile.

GET UPDATES IN YOUR INBOX
Join Our Private Facebook Group for Exclusive Content & Access to Our Coaches!