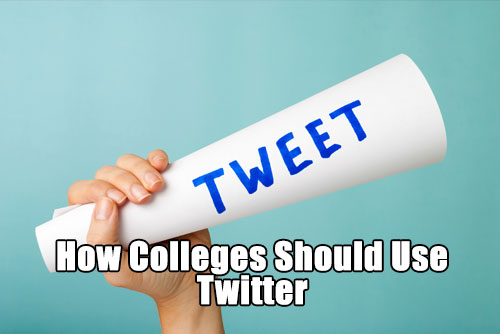 How Colleges Should Use Twitter
This is part of our Higher-Education Marketing guide to Leverage Social Media and Increase Higher Education Prospects. You can also check out How To Use Facebook and How to use Instagram  or Pinterest as a college or university. Check out the infographic, but make sure to learn more about how it all works below!
Twitter is an important social platform for businesses of all sizes. While fewer people have a Twitter profile than have a Facebook profile, it is structured in a somewhat more business-friendly way. Even so, when you use Twitter as a business or even as a professional, the way you post content is different.
We cover:
Why should you use Twitter as part of your social media plan?
How does Twitter organize content?
What types of content to post and how to structure and restructure that content for multiple postings.
How to leverage your Twitter followers to increase prospects.

Why Using Twitter Correctly Matters
Twitter has been around since 2006 and since then has grown to 316 million monthly active users sending 500 million tweets per day. Even more important for schools, the majority of Twitter users are in a younger demographic. A total of 37% of all online adults between the ages of 18 to 29 use Twitter. More importantly, users enter 2.1 billion search queries every day. Getting your content listed in those searches is the best way to attract new prospective students.
Given the number of younger users on Twitter and the huge number of searches that occur daily on the social platform, it is important to both have a profile and to regularly post content in a way that it can be found. Understanding how users find new content on Twitter is the best way to determine how to create and structure your content.
How the Twitter Stream Works
One big difference between Twitter and Facebook is that content is organized by recency rather than an algorithm determining what is most relevant to you. The great thing about this is that it is far easier to get your content in front of current followers and potential new followers as a business. Instead of battling for relevancy against posts from a Facebook user's ten best friends, Twitter users can both find your content in searches and see your content in their stream as soon as it is published.
Before you get too excited, it's important to realize the sheer volume of content on Twitter. Ready to have your mind blown by how many tweets have been posted just today? Go to this live counter of all tweets posted today. Every second there are around 6,000 tweets tweeted on Twitter.
How Searches Work on Twitter
Twitter has also become a search engine similar to Google or Yahoo. A user can search by a hashtag or just a single word. From there, you can organize content by a number of categories including Top, Live, News, Photos, and Videos. There is also an option to narrow your search by the type of content, whether it was posted by someone you follow and if it was posted by a user near you. All of this shows that how you post content is extremely important to getting in front of potential new followers.
While there is always an opportunity for content to be found based on recency, this way of organizing searches makes tweets with more engagement more likely to appear. The "Top" category is the default for searches and organizes tweets based on a combination between engagement and recency. You probably won't see any posts from two months ago even if they got more engagement, but you are more likely to see a post from two hours ago with a lot of favorites and retweets. This search format also favors photos and videos with a separate category for each of them.
What Types of Content You Should Post
Since each tweet is limited in how long the caption can be, you have some restrictions on the type of content you can post. Twitter is a great platform to post articles, announcements, photos and some videos. Posting articles with brief captions and relevant hashtags makes it easier for potential followers to find your content. You have a limited amount of space to explain each article or link that you post though so it is important to use appropriate keywords and hashtags so users can find it. Twitter also is a great place for timely announcements about major events or news that is relevant to your followers.
Photos as usual are one of the most engaged with types of content. While Twitter is inherently a more text driven platform, changes in the platform's layout to include an image preview in the Twitter stream have increased the importance of photos. Buffer did an A/B test of posts with and without photos and the results were clear. Posts with photos do better. In fact they get 18% more clicks, 89% more favorites and 150% more retweets. While that doesn't mean every post should be a photo, it clearly shows the importance of including photos in your posted content. You can also post videos to Twitter but you have to post them through a smart phone and they have a maximum length of 30 seconds. While they can lead to great engagement, we recommend focusing on text and photo content.
How to Structure Your Content
Given how quickly new content is posted to Twitter, it is important to be especially active on the platform. At a minimum you should be posting daily. While the optimal time to post can vary based on your audience, we recommend posting in the late morning or around 12pm and at the end of the workday. You should be posting two to three times a day as a minimum or a few times an hour as a maximum. Remember to keep your tweets relevant. There is no point in posting every 15 minutes if the tweets are pointless and unlikely to attract new followers, engage current followers and drive traffic to your website.
Given the fact that Twitter posts are restricted to 140 characters, you have to construct tweets carefully. Keeping tweets under 110 characters will also increase engagement. Images take up 23 characters and links can take up to 23 characters. To save as much space as possible consider using a URL shortener like Bitly. As you construct your tweet also try to leave room for hashtags. The optimal number of hashtags in a tweet is two and using specific, relevant hashtags greatly increases your chances of your content being found in searches.
Ways to Restructure Content (for Twitter)
While most of our other social media platform guides use this section to talk about ways to restructure content for other platforms, we are going to focus on restructuring content for Twitter itself. Most of the content that you post to other outlets will already be posted to Twitter. Given the sheer number of tweets posted each day, you need to tweet the same content multiple times for all of your followers to see it. While some people disapprove of resharing the same content, the benefits are huge.
Sharing the same content to Twitter multiple times can more than double the total amount of engagement. The trick is to post the content in a different way each time. At a minimum you should use a different caption each time you tweet the same article. Some possible captions include the title, an interesting fact, a question or a quote. You can even share an article with a photo as a way to restructure it. We recommend posting an article at least three to four times. Starting with the first post, post again later that day, the next day, the next week and then a month later. Since there are fewer photos posted to Twitter, we find that it is less important to post photos multiple times.
Leveraging Twitter Followers
The best ways to leverage Twitter followers is through original content. If you regularly post engaging articles from your blog, you will drive traffic to your website. To fully optimize traffic to your site, it is important to make sure you structure your content with relevant hashtags so you can be found in search queries and that you post content multiple times so current followers and other users can see it. In order to build your follower base, you should make sure to regularly post other people's content as well that relates to your school. Increased followers gives you a greater chance of getting your original content in front of more people.
Twitter also allows you to link your profile to your homepage. Since that link will not take prospective students to a specific landing page, you need to think about the layout of your homepage. Multiple blog posts could be written about the dos and don'ts of a university homepage. The most important thing when trying to make sure you are leveraging social media, however, is creating clear and obvious calls to action for students to visit campus or request information.
Important Takeaways for Using Twitter
The biggest thing to remember when using Twitter is that you are posting in a vast sea of content. While the recency-based stream of tweets plays to your advantage, you also have to post regularly and often. Work on restructuring each piece of content for multiple uses on Twitter. Posting multiple times is the only way for your content to be seen by your entire audience. Timeliness and brevity are the two most important qualities of a great Twitter profile.
Thinking about Twitter as a search engine rather than just a social network is also important. Hashtags and keywords are both important to getting your content into relevant search queries and in front of prospective students. Even in searches, however, quality content that engages users is more likely to be seen. Post frequently but post with purpose.
GET UPDATES IN YOUR INBOX
Join Our Private Facebook Group for Exclusive Content & Access to Our Coaches!