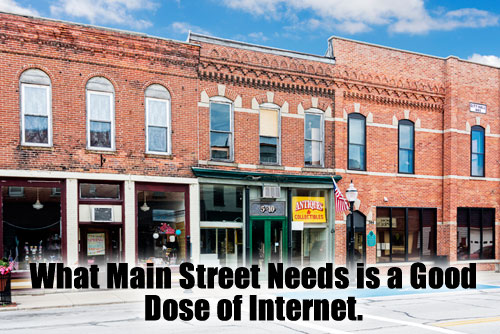 Roanoke, VA SEO: A Quick & Dirty Guide to Local SEO Marketing
Organizations (especially retail businesses and career colleges) hear a lot about "Local Search Marketing" and "Local SEO". I put this quick and dirty guide together to help you understand the basics of local SEO and to give you some quick and easy pointers on how to improve your website's position in search rankings.
And I figured that the best way to help you understand some of these concepts was to write as if I was helping clients in my home town of Roanoke, Virginia. Well, actually I live in a small town outside of Roanoke called Salem – but more on that later. (So, if you were looking for a Roanoke SEO firm or SEO consultant, then you are in luck! The tips and examples discussed here will be that much easier to apply.)
What is SEO? What listings are we talking about?
SEO is an acronym for "Search Engine Optimization". When marketing folks talk about SEO, we are referring to the different ways that web pages are served up in the "organic" search results displayed by engines like Google, Yahoo!, and Bing.
An "organic" search result is simply a result that someone does not directly pay for – it's not a paid placement or ad, but is instead arrived at because of an algorithm that measures the relevance of a particular web page to a particular searcher's intent. (Tip #1: If someone claims that they can BUY you a top spot on Google – they are either lying or are talking about the pay-per-click results associated with paid online advertising. Be sure you ask about the difference. Paid ads are great, but they get very different responses from organic ones.)
In the same way that Google's goal is to provide search results that are the most relevant to a user's intent, you want to appear at the top of those results that are most closely aligned with what your customers want.
The art of SEO and of Local SEO Marketing is to improve where an organization's pages appear when people are looking for relevant services on a search engine. So, if you are a Japanese restaurant in Roanoke, you want to rank highly when people in the Roanoke area search for "Sushi restaurant" as well as "sushi in Roanoke" or "Japanese restaurant".
That said, the algorithm that search engines use (especially Google's) is a mystery to some extent and is kept that way so that people cannot unfairly game the system (that is why the algorithm is changed and improved constantly as well). We SEO pros do not know the search algorithm, so we collectively put our heads together based on experiences with client sites to make (very) educated guesses about what matters and how much… (Tip #2: People who claim that they know, for sure, how Google ranks pages are lying or delusional – or both. Or they work for Google and shouldn't be telling you this.)
One thing we do know: Google cares about location and about localizing search results. There are a few market-driven reasons behind this – it helps them sell more advertising and a rising percentage of searches are aimed at finding local, offline resources to fulfill a particular need. Searchers in Roanoke and surrounding areas are overwhelmingly likely to be searching about events, services, and goods in the Roanoke area and Google serves up results to match.
Here are 9 tips to help you get started in optimizing your search results:
1.) You Manage What You Measure – set up Analytics and Webmaster tools. Google offers two free tools that will let you track the traffic to your website (as well as warn you if it goes down, slows down, isn't usable, or just really sucks). Setting these services up is relatively painless and can be done in less than 15 minutes. (If you want help, just drop us a line.)
Use Analytics and Webmaster tools to benchmark how much traffic you are getting as well as how many times your pages appear as part of the results for different search queries. You can also use these tools to see where your pages appear as part of these queries.
2.) Consider 'landers' as part of your site. Many sites, especially local sites, are designed using the old idea of an "information architecture" where you have a home page, pages for each product, a contact page, and so on. If you want to be competitive in a local market, then look at the various reasons your customers and clients engage your services and write pages specifically aimed at those reasons in addition to the pages specified in your architecture document.
Google ranks both your entire site (which SEO firms track as "Domain Authority" – more below) as well as individual pages (called "Page Rank"). Creating pages specifically aimed at showing users that you have what is relevant to their particular needs is a very solid (and underutilized) strategy for local businesses and organizations.
3.) Improve your Home Page or Landing Page content. A surprising number of businesses (really good ones) have little or no content on their home pages. Some of this is hold over from the days of the "splash page" in web design. These introductory pages, while beautiful, no longer serve the purposes of businesses looking to improve their search presence. For a local example, search for "Blue Apron Restaurant Roanoke". Gorgeous layout, but light on content.
Most local businesses are similarly light on home page content despite the fact that the overwhelming majority of top search results in Google are pages with more than 750 words worth of relevant content – and in many cases, over 2,000. This means that creating a home page or landing page with focused, detailed content is a huge opportunity for most local businesses.
4.) Make your Content Useful: Google has learned that people are looking for information that serves a purpose. This means the kind of information that helps people make decisions. Detailed service descriptions, FAQ's, community builders, product information, and testimonials are all great ways to give users what they want and to rank well with Google.
How does this work in the real world of Roanoke? Here's an example.
Here is a screen capture of the top 5 organic results for "Emergency Plumber Roanoke". Note that the top entry has Plumbing as part of the domain as well as the page name. It also lists 24-hour emergency service in the text that Google grabs to describe the site.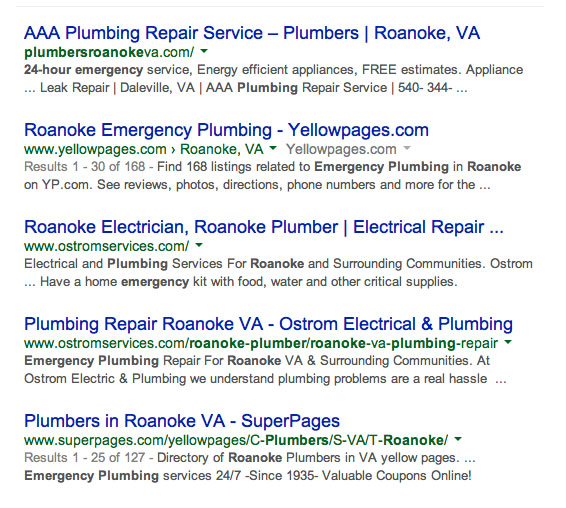 Two of the top five listings are from directory sites like Yellowpages.com and Superpages.com.
The remaining two are from a business that has Roanoke specific content as part of page titles and copy. But not a whole lot on emergency plumbing itself.
If I were counseling a plumber who wanted this sort of business, I'd advise writing a page for "Emergency Plumber in Roanoke" and then write page copy that includes typical repairs made as part of emergency service, reasons you might need emergency service (as in "How to know you need an emergency plumber"), and typical emergencies you've seen in the Roanoke market. Then I'd be sure to include some testimonials that include kudos for emergency service (and hopefully get clients to leave those testimonials on social media properties like Facebook and Google+/MyBusiness).
5.) Use Keywords & think like your user: "Keyword" is just a fancy term for "things people type when they search for stuff". When you are thinking about how best to drive new business using local SEO, think in terms of what your users really want. And then look for opportunities that are being ignored.
Here is an example.
This screen shot shows the three featured listings that Google serves up when I searched for "Where should I go for dinner?" I didn't include "Roanoke" in the query. I just typed a question that was natural and assumed that Google would give me nearby results.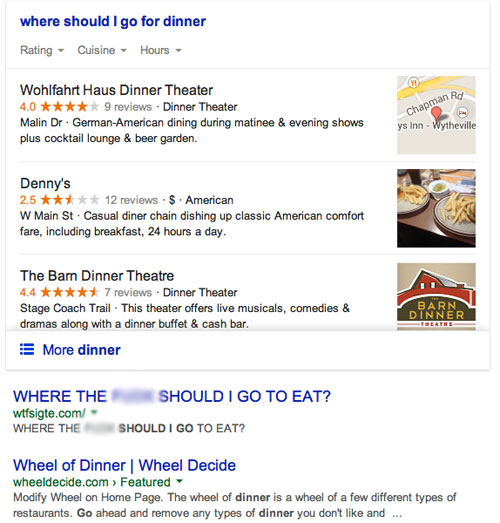 Interestingly, only a single result was truly local and you will see that the "regular" organic listings below that result are all for general searches and not restaurants at all. Now this is hardly fatal – it turns out that the keyword query we're talking about has very little traffic overall. But it's worth noting that Google served up results for two locations that were far away because they mention 'dinner' in either the name of the business or in the description. Feeling confounded about the lack of local results, Google then offered up Denny's – because maybe you misspelled "diner" in your query. And lots of people like Denny's.
Thinking like a user means including copy in your restaurant site that notes that you are a great place to have dinner or a great place to eat. So, in this example, if you are a restaurant in Roanoke and want to go after the "where should I have dinner market", you've got tons of room to play. Just be sure that you don't "stuff" keywords by writing copy that unnaturally overuses a particular term.
6.) Use Title tags the right way (and do use them…). Title tags appear at the top of the code for your page. If you use a content management system, you can create these tags and be sure to have them be no more than 50-60 characters long and that they accurately summarize the content on the page in a way that is readable.
Google will often use what's in the title tag as part of the search results display. So, you want it to be descriptive and natural and not an awkward list of keywords.
7.) Try to include City/State in title tag, H1 heading, content, alt text, and in your UR for the relevant page. This one is both obvious and sometimes a bit difficult to pull off and have it look natural.
A great example of this is the current site of Roanoke CrossFit gym "Brickhouse Crossfit". The title of their homepage is "Brickhouse CrossFit // The Original CrossFit of Roanoke, VA Located in Downtown Roanoke 24016". This title packs a heck of a lot of local info into a small space in a way that seems pretty natural.
8.) Consider looking at Domain authority and Page authority. Domain and Page authority are two popular measurements of the relative "Strength" of an entire website as well as of individual pages respectively. Basically, both measures make an attempt to assess the aggregate quality of the links that point to a page or domain. Note that quality is the key here – not quantity (in fact, "link building" strategies that are aimed at getting you hundreds or thousands of links will often hurt you in Google's rankings rather than help.)
The higher the quality of an inbound link, the better your authority scores.
How would you put this in play in a local market like Roanoke? Another example: Back in 2011, I helped found a CrossFit gym in Salem, VA – close to Roanoke, but not IN Roanoke. At that time, Brickhouse CrossFit (mentioned above) owned 9 of the top 10 search results for "CrossFit Roanoke". The 10th was for a gym in Roanoke, Texas.
In trying to rank highly for similar searches, I put together a strategy to name the business appropriately (we used "Roanoke Valley CrossFit" since we live in the Roanoke Valley) and to go after as many inbound links of high quality from local, high authority sites. This meant news and entertainment sites. So, we worked to generate interest from the local paper (the Roanoke Times) in order to appear on it's Roanoke.com website as part of a content rich article. Ditto local news stations. We also made sure to sponsor key events that would provide us listings with copy on sites owned by the City (hence our early participation in what was, at the time, the "Roanoke Outdoor Circus").
Within 4 months of opening, we owned 8 of the top 10 listings for "CrossFit Roanoke" and Brickhouse had the other two. I have it on good authority that the owners of Brickhouse were none too pleased — but none of what I was doing was at all "black hat". I just had the unique advantage of being both a marketing professional with deep internet experience and part-owner of a gym. (I moved on from the gym in 2012 and Brickhouse made vast improvements to its website while Roanoke Valley CrossFit languished with poor marketing and neglected web presence. Brickhouse now dominates local searches for CrossFit with a terrific site and great content.)
9.) Have your physical address and phone number on pages. For local searches, you'll want your physical address and contact information to be available on as many pages as possible. Often called "NAP" in the SEO world (for "Name Address Phone") it is also important that it match google's MyBusiness page or Google+ page for your business.
(One caveat: You can put multiple phone numbers on a page – just try to group your canonical listing next to your physical address.)
In closing, this is not even close to a full list of things you can do to improve the local search results for your business or organization. But if you are like most local businesses, you've found at least two or three (or in our experience of local businesses more like six or seven or eight) items that you hadn't thought of and that would benefit from your attention.
Taking the time to follow a few of these tips can give you easy wins in the search engine marketing game.
GET UPDATES IN YOUR INBOX
Join Our Private Facebook Group for Exclusive Content & Access to Our Coaches!